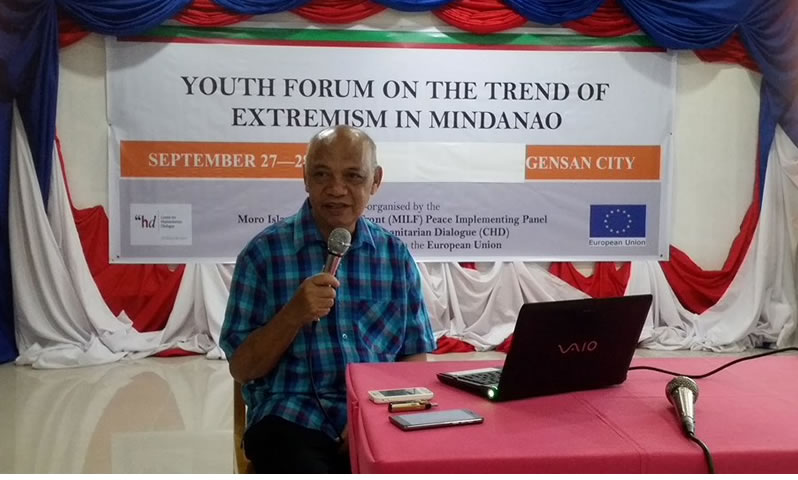 'Pass the BBL, let Supreme Court decide on unconstitutionality': MILF Implementing Panel
A member of the Moro Islamic Liberation Front (MILF) Peace Implementing Panel urged the Philippine Congress to pass the Bangsamoro Basic Law (BBL) and thereafter let the Supreme Court decide if there are provisions that are unconstitutional in the proposed legal measure that is hoped to provide the Bangsamoro people their desired self-governance.

"It is the sole responsibility of the Philippine government to pass the BBL," Professor Abhoud Syed Lingga, member of the MILF Peace Implementing Panel reminded during his lecture for the participants of the Youth Forum on the Trend of Extremism in Mindanao held at General Santos City on September 27-28.
He said the enhanced BBL should be passed, if possible, with all provisions retained for it was crafted to address the legitimate grievances of the Bangsamoro people and help realize their right to self-determination.
"Anyway after passing it, the Supreme Court can determine if there are unconstitutional provision," he said and added that the Bangsamoto Transition Commission (BTC), the body created to draft the BBL, may recommend amendments of the constitution to accommodate whatever BBL provisions seen as unconstitutional.
The BBL is one of the important fruits of the more than 17 years of peace talks between the Government of the Philippines and the MILF.
The old version of the BBL was drafted by the 15-member of the BTC during the stint of President Benigno Aquino III. However, Aquino's term ended without the draft Bangsamoro bill passed into law.
During the current administration, President Rodrigo Duterte reconstituted the BTC adding six more members that included representatives from the Moro National Liberation Front and Indigenous Peoples. The enhanced BBL was already forwarded to the Office of the President.
Lingga asked the Muslim youth to partake in the advocacy for the realization of Bangsamoro government through the passage of the BBL.
He also urged the participants not to opt to venture into radicalism should the BBL will again failed to be passed by the lawmakers.
At present, peace advocates are initiating different strategies to call the attention of the lawmakers to help in the swift passage of the proposed measure.
Lingga further advised that whatever fate awaits the BBL, they should cling to the peace agreements.
He said the Bangsamoro people have the right to demand the government to fulfill whatever are stipulated in the peace agreements.