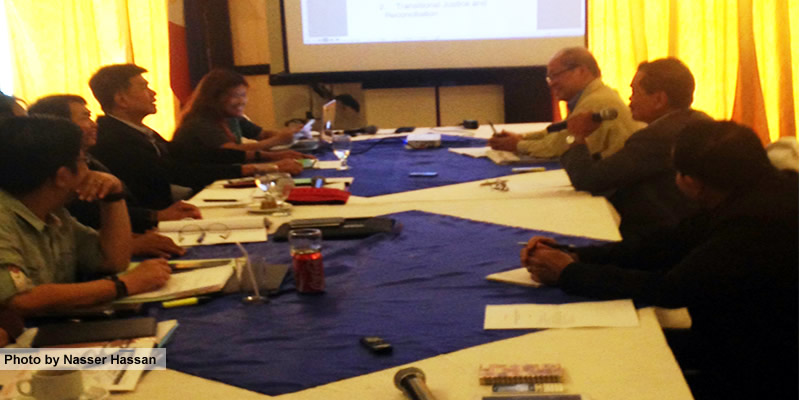 GPH, MILF Peace Implementing Panels to launch Reconstituted BTC
A MindaNews report says that, the peace implementing panels of the government (GPH) and Moro Islamic Liberation Front (MILF) on Wednesday agreed on a target date for the launching of the Bangsamoro Transition Commission (BTC) even as the 21 members of the body that will draft the Bangsamoro Basic Law (BBL) have yet to be officially named. 
The panels met yesterday at the Kanato Hall of the Royal Mandaya Hotel to discuss several ways forward in the implementation phase. 
Irene Santiago, Chair of the GPH Peace Implementing Panel said they are eyeing the last weekend of February for the launch and oath-taking in Davao City of the 21-member BTC. President Duterte, who was mayor of this city for 22 years, comes home every weekend, the MindaNews report also said.
Under the Peace and Development Roadmap of the Duterte adminstration approved in July last year, the BTC is supposed to submit the draft to Congress by July 2017 but as of 5 p.m. Thursday,  Malacanang has not released the appointment papers that Presidential Adviser on the Peace Process last month said was signed on January 9.
Despite the delayed release of appointment papers of BTC members, Santiago, and Mohagher Iqbal, Chair of MILF Peace Implementing Panel are optimistic the BTC can meet the July deadline. 
Santiago said they are confident the draft law will be submitted to Congress before President Rodrigo Duterte delivers his second State of the Nation Address (SONA) on July 27, where he is expected to certify the bill as urgent.
Iqbal, who was chair of the BTC under the Aquino Administration from March 2013 to June 2016 said, they are "not starting from scratch." 
Iqbal will remain a member of BTC with MILF 1st Vice Chairman Ghazali Jaafar as the new chairman.
Iqbal told MindaNews there are existing drafts that can be made as the working draft to hasten the process of the final drafting.
Iqbal also said sessions can be done more frequently than the previous BTC's twice monthly sessions with the rest of the month spent on consultations and committee meetings. He said they can meet every day if necessary.
Six of the previous BTC members representing the MILF will still be part of the new BTC, Iqbal said.