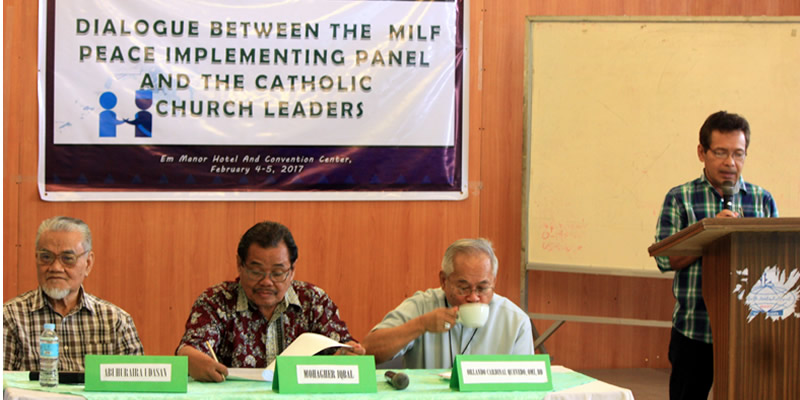 Catholic leaders join MILF call to uphold peace agreements
COTABATO CITY  -- Leadership of Archdiocese of Cotabato, Christian stakeholders and the MILF Peace Implementing Panel signed a joint statement calling for the urgency of the implementation of the signed agreements between the GPH-MILF, after a dialogue held today in Cotabato City on February 4.
The program formally opened following the Muslim and Christian prayer.
Members of MILF Central Committee, MILF Implementing Panel, Archdiocese of Cotabato, Oblates of Mary Immaculate, the Knights of Columbus and other Catholic stakeholders were gathered in this event organized by Bangsamoro Leadership and Management Institute (BLMI).
The common concern to realizing the peace dividends in the community brought about the said dialogue.
Stories-filled discussion led by MILF Implementing Panel Chair Mohagher Iqbal and Cardinal Orlando Quevedo fortified the understanding on the need to address the historical injustices in the Bangsamoro during the sharing session.
The participants came up with agreed terms of understanding as a proposed resolution to the current social concerns. It consist of specific points addressed and appealing to the present administration of the Philippine Government.
The necessity for the government to have a consistent policy in dealing with the Bangsamoro question was collectively articulated. The need to reconstitute the expanded Bangsamoro Transition Commission (BTC) and to certify its draft enabling law as urgent were as follows.
It was further discussed during the dialogue that communities face the threat of violent extremism as the non-implementation of agreements brew a growing frustration among groups. The participants then expressed their condemnation on any acts of violence and terrorism.
In upholding peace, the participants call on the peace stakeholders to help safeguard and sustain the gains of the peace process by committing time and resources in establishing the culture of peace in the Bangsamoro.
The group also committed to more joint initiatives in upholding the peace agreements and securing the gains of the decades-long negotiations.
The joint statement to be endorsed accordingly was released on the same day, where each of participants affixed their signatures.
The Comprehensive Agreement on the Bangsamoro, signed by GPH and MILF on March 2014 provides for the Bangsamoro to recover their dignity by exercising their right to self-determination. It acknowledges, gives respect to and will rectify the historical injustices committed to its people. It will usher in development in the most destitute region in the country. Ultimately, achieve peace and sustainability benefitting the entire nation.