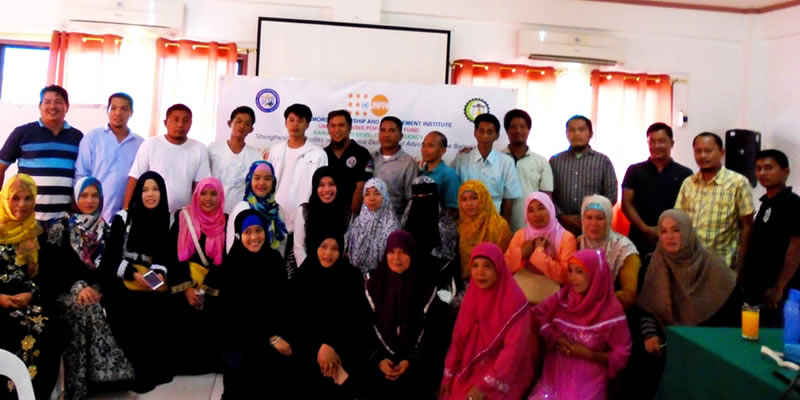 BLMI, BDA conduct Values Transformation Training
 The Bangsamoro Leadership and Management Institute (BLMI) in partnership with Bangsamoro Development Agency (BDA) conducted a three-day Seminar-Workshop on "Values Transformation Training (VTT) Roll-out on Reproductive Health in Islamic Perspective" on May 20-22, 2016 at BLMI Training Center, Crossing Simuay, Sultan Kudarat, Maguindanao.
The program is part of capacity strengthening on Reproductive Health (RH) Services Delivery and Advocacy in the Bangsmoro. 
The thirty (30) participants comprised Islamic Scholars, Medical Practitioners and Arabic students from Lanao region, North Cotabato, Maguindanao and Cotabato City. 
Sheikh Abdulsalam Alabat, BLMI Officer and Program Coordinator presented the program overview. He said that among the program's core objectives is to harmonize the integration of Reproductive Health issues in both secular and Islamic perspective which is deemed necessary in the course of building an ideal and prosperous Bangsamoro Family and Society.  
Mr. Emran G. Mohammad lectured on "The Concept of society" by emphasizing its essential concepts and elements based on Islamic principles and practices that may feasibly lead to an emergent of an Ideal and prosperous Bangsamoro society if is internalized and implemented consistently. 
Topics on pre-marriage counseling were discussed by Ustadza Jihan L. Batiting in the afternoon. She accentuated its advantages in the course of building-up an ideal family. The participants also engaged in pre-marriage counseling workshop simulation. 
On day-two session, Mohammad touched on the 'Concept of Family" He underlined its crucial concepts and requisites in attaining an ideal family that anchors on Islamic faith. Another topic on Pregnancy and Delivery was also lectured by Ms. Oswalda J. Usman, a Registered Nurse and Arabic literate. She emphasized the significant concept of pregnancy and delivery in medical perspective in conjunction with Islamic point of view, while the concept of Family planning in Islamic perspective was lectured by Sheikh Alabat
"Child care and protection" as well as "Gender and Health education for youth" were presented by Ustadza Batiting where she emphasized vividly its principles and practices as inscribed in the Noble Qur'an and Hadiths of Prophet Muhammad (Peace be upon him). 
The Resource persons thanked the participants for their steadfast and responsiveness in the pursuit of knowledge and urged the participants to internalize and share the acquired knowledge to their fellowmen.  
The participants expressed their profound gratitude to BLMI, BDA and to resource persons for the viable initiatives and the knowledge imparted to them, and also to the United Nations Population Fund (UNFPA) for its unwavering assistance extended to the Bangsamoro people.  
Both BLMI and BDA through the assistance of (UNFPA) and other donors agencies have been unceasingly undertaking various programs and activities that basically aim to enhance and aspire to produce a Bangsamoro ideal family and prosperous Bangsamoro society in response to current societal phenomenon that have been lingering in the Bangsamoro communities. 
Mr. Tirso Tahir, BLMI Research Officer together with other BLMI staff facilitated the program.  


Alliance of Bangsamoro women groups undergo training on 'Thinking & Working Politically' framework