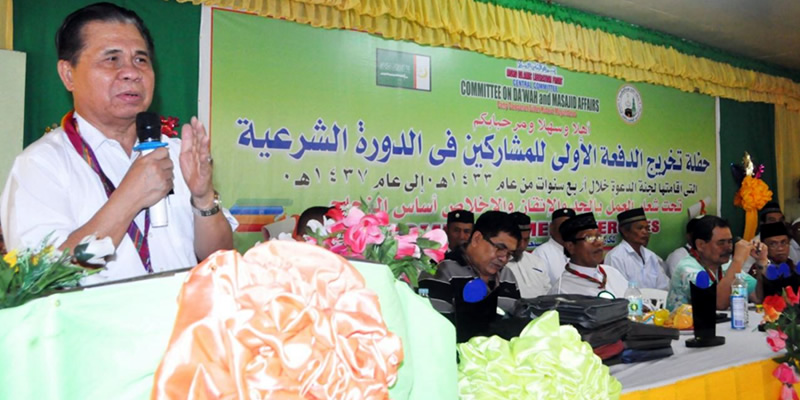 MILF Da'wah & Masajid Affairs Committee holds 1st Commencement Exercises
About 1,903 members of the Committee on Da'wah and Masajid (mosque) Affairs of the Moro Islamic Liberation Front (MILF) held their 1st Commencement Exercises on Tuesday, July 26 at Camp Darapanan in Sultan Kudarat town, Maguindanao.
The Chair of the Committee on Da'wah and Mosque Affairs congratulated the Human Resource Development Sub-Committee for the success of the program.
"This is a great grace bestowed upon you by Almighty Allah and you should perform your duty to remind our people about the teachings of Islam," he said.
MILF Chairman Al Haj Murad Ebrahim, 2nd vice Chair Sheikh Pangalian Solaiman, MILF Peace Panel Chair Mohagher Iqbal, BIAF Chief of Staff Sammy Al-Mansour, and the Vice Chair of Committee on Da'wah & Mosque Affairs and other members of the Central Committee graced the event to show their full support.
Chairman Murad hailed the graduates for their struggle and sacrifices that took them about four years just to complete the special class spearheaded by the Committee on Da'wah & Mosque Affairs.
"In behalf of the MILF leadership, we are proud to congratulate all of you for this very historic day," Murad said.
He also emphasized that this is a significant tool to push forward the MILF-led struggle.
"This commencement exercises only means a signal for us to start and do our duties and responsibilities," Chairman Al Haj Murad said.
For his part, Chairman Iqbal gave a briefing on the current status of the peace process. He reminded the audience on the guidelines of MILF-led struggle written by the late Amir Sheikh Salamat Hashim that the ultimate objective is "to make the words of Allah supreme."
"Whether there is a Bangsamoro Government or none, we must struggle in order to attain that objective," Iqbal said.
The four-year special class program started in 2012 at Camp Darapanan. The 2,000 graduates came from 48 political provincial committees of the MILF.
The program ended with the reading of Oath of Allegiance (Bay'ah) to the leadership of MILF under Al Haj Murad Ebrahim.