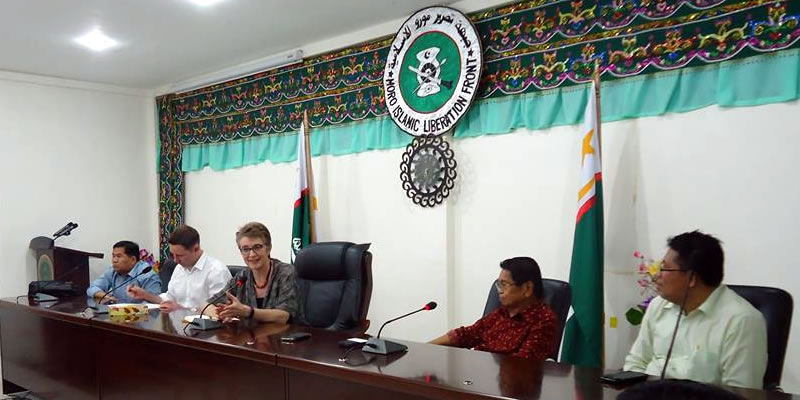 MILF pleased with MTF extension
The MILF on Monday welcomes the extension for another year of the World Bank-administered Mindanao Trust Fund (MTF) which has been assisting in socio-economic recovery of conflict-affected communities in Mindanao since 2005.
MILF First Vice-Chairman Ghadzali Jaafar relayed this to World Bank Philippine Country Director Mara K. Warwick who met with top leadership of the Front in its administrative base in Camp Darapanan.
Jaafar said that the MILF would continue extending its full cooperation to the implementation of programs and projects that would fall under the MTF.
He reiterated that the Bangsamoro Development Agency (BDA), being the development arm of the MILF, would continue with its role of determining, leading and managing development initiatives for the Bangsamoro people and their communities. 
Jaafar told Warwick that while socio-economic projects are important for the Bangsamoro, it is still the political agreement that would ultimately solve the Bangsamoro problem.
"The political solution, which is the establishment of the Bangsamoro government, must be implemented inorder to truly address the legitimate aspirations and grievances of the Bangsamoro," Jaafar said.
Warwick, who assumed her post effective March 1 of this year, is on a 4-day project assessment mission in areas where projects under the MTF were implemented.
An engineer by profession and Australian by nationality, Warwick first visit to Camp Darapanan was witnessed by a dozen members of the MILF's Central Committee, many of whom are heading standing committees related to human development such as education, social welfare and da'wah (spiritual guidance).
Key MILF military top brass led by BIAF Chief of Staff Sammy Almansor also met the World Bank head.
Warwick was accompanied by Matt Stephens, MTF Program Manager and Senior Social Development Specialist, and staff memebers Magdalena Sotomayor, Bane Agbon and Ica Fernandez.