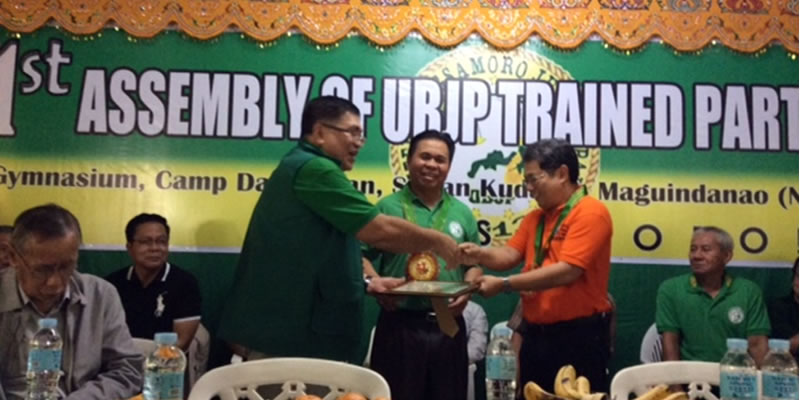 UBJP Trained Party Workers attend 1st Assembly in Darapanan
Almost a thousand of UBJP political party workers who have been trained on different occasions were in attendance during the 1st UBJP Assembly on November 5 at Camp Darapanan's Gymnasium in Sultan Kudarat, Maguindanao. 
Volunteers, supporters and MILF Central Committee members were also present.
UBJP Secretary General Sammy Al Mansoor in his opening remarks and overview briefly cited the background of the political party organized by the MILF. 
He said "the inception was when the Islamic Party of Philippines was created, upon the persuasion of then Chairman Salamat Hasim. The essential objective of the MILF, which is political is to achieve right to self-determination that can be achieved thru political settlement, thus joining the arena is one avenue, Al Mansoor added.
Secretary General Al Mansoor gratefully mentioned names of institutions that supported the UBJP programs in terms of sponsoring seminars/training on political party such as the Institute of Autonomy and Governance, Kondrad Adenauer Stiftung, Netherlands Institute of International Relations, Barisan National Malaysia, and the United Nations Development Program and AK of Turkey.
MILF Chairman Al Haj Murad Ebrahim, UBJP President taking note of the activity as being the first assembly of trained party workers, recalled those times when the struggle was just starting and revolutionary workers were also on their training. 
Chair Ebrahim said, "In some aspect there maybe similarities, workers giving time and effort to the objective, perhaps today's struggle is even more difficult than the previous". 
"For this phase of struggle that we are now facing has more challenges. From arm struggle thru peace process we come to political struggle. With political structure, we will be able to sustain what we have gained, and the principles we are struggling for, in shaa Allah", he added.
From the Institute of Autonomy and Governance, Executive Director Atty. Benny Bacani, gave an impression. Director Bacani expressed his thanks and gladness for the trust and shared vision in having led trainings for UBJP. 
Notably, he mentioned the Moro participants in the political trainings they have conducted were attentive and disciplined. He reminded the party workers on the importance of sustaining the principle of struggle in wanting to change ills of social, cultural and political system.
2nd Vice Chairman Aleem Ali Pangalian Solaiman gave insights on Political Party in Islam.
One hour workshop was designed by Atty. Naguib Sinarimbo, UBJP Deputy Sec-Gen, Dr, Taugan S. Kikay, Dr. Tomanda Antok. Dr. Norodin S. Salam acted at emcee. 
Dr. Parido R. Pigkaulan, the untiring Chief of Documentation and Publication Committee made the Presentation of Delegates.