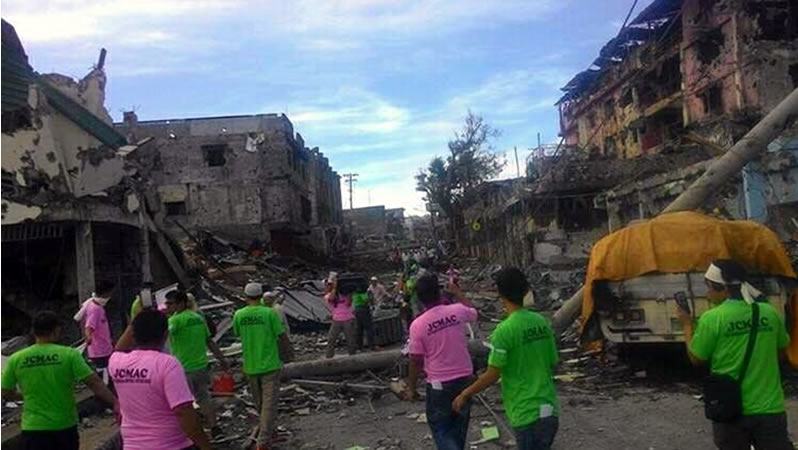 134 trapped civilians in Marawi rescued, Peace Corridor to continue
134 trapped civilians in Marawi City were rescued on Sunday, June 4, when a 4-hour GPH-MILF humanitarian peace corridor opened from 8 a.m. to 12 noon, Mindanews said in its report on June5.
"Everyday we will change the time" for the "Peace Corridor" to allow for the safe passage of civilians, Irene Santiago, chair of the government's Peace Implementing Panel in the peace process with the MILF, told a press conference in Marawi.
Secretary Jesus Dureza, Presidential Adviser on the Peace Process, said they will have to assess the implementation of the corridor to ensure the rescue teams going inside the conflict zone would not be endangered.
A humanitarian ceasefire is "an opportunity for us to save lives" but can also be "an opportunity for the enemy to take advantage", Mindanews quoting Dureza saying during the Marawi press conference.
"But the Peace Corridor is there," Dureza said, adding, "as to whether or not it will be safe to move out people through that Peace Corridor is something that will have to be decided one at a time."
In the same press conference, Maj. Gen. Carlito Galvez, Western Mindanao Command chief told reporters that saving the lives of civilians is their primordial concern, noting that even if they would be disadvantaged operationally during a humanitarian pause, "we still allow it," and that having saved a total of 179 trapped civilians yesterday (134 through the corridor) boosts the morale of the troops.
He said "without hesitation," he immediately said yes when Santiago asked for a four-hour pause.
At least 300 trained members of the joint peace and security teams of the GPH-MILF are being deployed throughout the length of the corridor and will be augmented as the need arises, Santiago said.