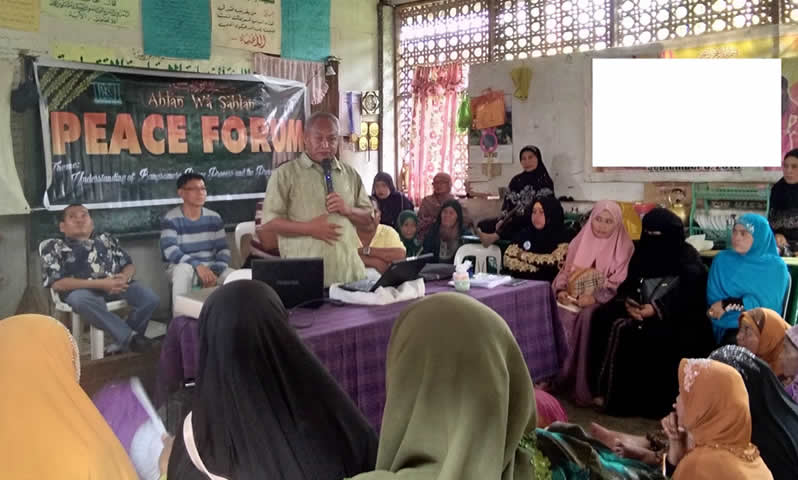 KPI Conducts Peace Forum in Mamasapano
MAMASAPANO, MAGUINDANAO (January 01, 2018) – The Kalilintad Peacebuilding Institute (KPI) conducted a whole day peace forum on understanding, and prospects for the proposed new Bangsamoro Political Entity.

Khairudin Anwar, one of the organizers said that people's participation in the peace process is the key to a successful political solution to the Mindanao armed conflict.
"It is important to accept an invitation of the other party to enter into peace negotiation in resolving conflict. Negotiation is a democratic way of conflict resolution", added Anwar.
Abdulaziz Talib, KPI staff explained the stages of the peace process between the Government of the Philippines (GPH), and the Moro Islamic Liberation Front (MILF) that started in 1997.
Prof. Esmael A. Abdula, KPI President, and BLMI Training Officer emphasized that the "Comprehensive Agreement on Bangsamoro (CAB) is a political document signed by the GPH, and MILF Peace Panels purposely to the end decades of armed conflict in Mindanao.
The Bangsamoro people aspires to have their own government that reflects their culture, belief, customs and traditions.
Many international non-government organizations, and the international community recognize the MILF as a legitimate organization fighting for the right to self-determination of the Bangsamoro people, added Abdula.
Abdula said that CAB Compliant Bangsamoro Basic Law (BBL) is the best solution to normalize Mindanao situation where the Bangsamoros suffered for a long time due to armed conflict.
"Passing the BBL as enabling law is a unitary responsibility of the Philippine government", Abdula further said.
"The most civilized, and practical way of solving the Bangsamoro problem is through a negotiated political settlement", Abdula quoting the late MILF founder Salamat Hashim.
The Chairwoman of the Mamasapano SWC suggested to KPI that there must be a continuous holding of peace forum to further enlighten the grassroots communities on the gains of the GPH-MILF Peace Process, and the status of the BBL as a way of managing peoples' frustration.
Leaders, and representatives of the Social Welfare Committee, and women sector from the Barangays of Mamasapano, Maguindanao attended the peace forum.