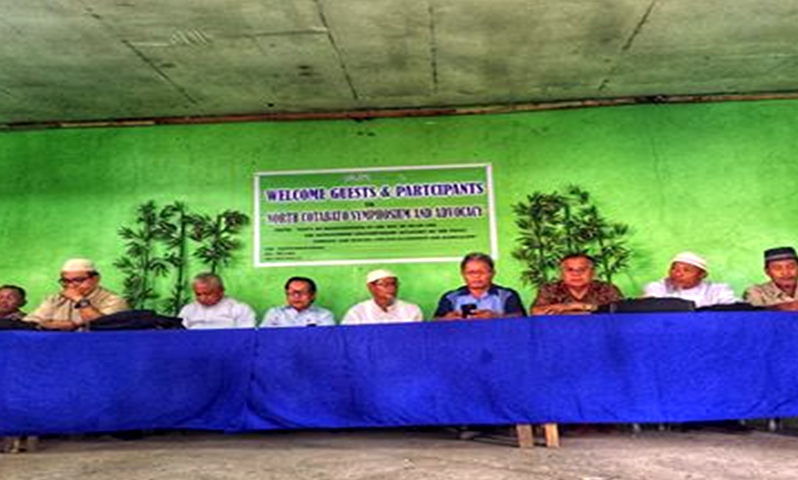 North cotabato political committee holds Islamic symposium and peace advocacy
Kabacan, North Cotabato, June 02, 2018- The North Cotabato Political Committee conducted an Islamic Symposium and Peace Advocacy last June 02, 2018 at Magatos, Kabacan, Cotabato with the theme "Unity on Righteousness in the Way of Islam, the Bangsamoro Contemporary Situation on the Peace Process and Fencing Violent –Extremism and Radicalism".

About 865 people from different sectors participated in the activity.
Marhan Burhan Khadafi, member of the Committee on Da'wah Central Committee, centered his lecture on Unity on Righteousness in the Way of Islam. He narrated the history of Islam and pointed out some important events which served as the foundation of unity and solidarity.
"'The concept of unity and solidarity were both mentioned from the Holy Qur'an and Hadith. Ignorance on the teachings of Islam resulted to both extremism and radicalism", Khadafi said.
Prof. Raby Angkal, Chief of Staff of Chairman Ghazali Jaafar of Bangsamoro Transition Commission (BTC) explained the current state of Bangsamoro Peace Process.
On the first part of his lecture he enumerated some of the gains of the MILF negotiation with the government. "Ceasefire is one of the significant results of the negotiation that brought lives to the Bangsamoro people," Angkal said.
He told the participants on the positive result of the House Joint Committee on Bangsamoro Basic Law (BBL) majority vote on the proposed law drafted by the BTC on the approval of the committee report on BBL without amendments last May 15, 2018 at the Batasan Pambansa, Quezon City.
"The implementation of the Comprehensive Agreement on the Bangsamoro (CAB) is unquestionable because it is strengthened by the BBL," Angkal said.

Uz. Akmad Doli, Chairman Tarbiyah-MILF Central Committee explained the importance of education in achieving unity and solidarity. "Education is very important, hence one must learn how to pray and obey the commandments of Almighty Allah (SWT) according to the Hadith and Qur'an," Doli stressed.
"Islam among other religions has the only concrete definition of unity. We must know our obligations to Allah (SWT) and He will reward us," Doli added.
Abdul Nasser Yusop, Al-Hadj, Vice President for External Affairs Etihad Madariz Bil Philippines discussed the topic regarding Fencing Violent-Extremism and Radicalism. He defined extremism as an idea about disobeying lawful acts and radicalism as a term related to politics and hidden acts which is opposite to existing law.
"We must not ignore Bangsamoro history for a reason, since this is the capital of current struggles," Yusop said.
"The best way to achieve a certain goal is to unite, perhaps the extremists determination will not succeed," Yusop added.