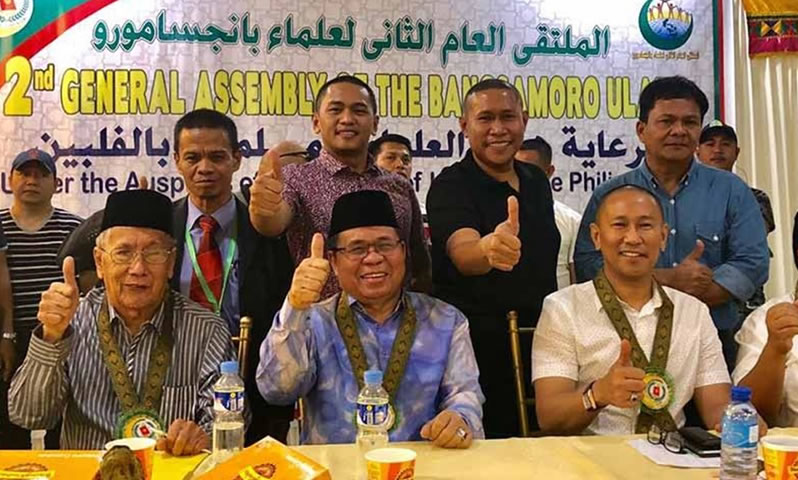 MILF chair Al haj Murad graces 2nd bangsamoro ulama general assembly
COTABATO CITY. September 19, 2018. The Council of Ulama in the Philippines in coordination with various ulama (Islamic Scholar) organizations and the Moro Islamic Liberation Front (MILF) conducted the 2nd General Assembly of the Bangsamoro Ulama with the Theme: " Unity and Sovereignty " held at the Robinsons Hall, Al Nor, Cotabato City on September 18, 2018.

The assembly was attended by more than 5,000 participants coming from different regions of the country.
Members of the MILF Central Committee were also present with Chairman Al Haj Murad Ebrahim as the keynote speaker.
MILF Chairman Murad presented the salient points of Bangsamoro Organic Law, its challenges and opportunities, and appealed to all participants to support its ratification by registering with the COMELEC and campaign for the yes vote during the plebiscite.
MILF combatants and their families had availed of the 3-day special satellite registration held at Camp Darapanan from September 11 - 13 conducted by COMELEC Central Office, Manila.
The Plebiscite for the ratification of R.A. 11054 (OLBARMM) or known as Bangsamoro Organic Law (BOL) is on set on January 21, 2018.
After the pprogram, a press conference/briefing by MILF Chairman Al Haj Murad Ebrahim was held where he strongly condemns the bombings in Mindanao recently specifically those in Gen. Santos City, Midsayap, North Cotabato, and Isulan, Sultan Kudarat.