AFP Chief of Staff Gen. Galvez Makes Historic Visit to MILF Camp Darapanan
Camp Darapanan, Sultan Kudarat , Maguindanao. The Chief of Staff of the Armed Forces of the Philippines (AFP) Gen.Carlito G. Galvez, Jr. made a historic visit to the MILF main camp at Darapanan accompanied by WESTMINCOM Chief Lt. Gen. Arnel B. Dela Vega; CG, 6ID and Cmdr. JFT Central MGen. Cirilito E. Sobejana ; CG, 1ID and Cmdr. JFT ZAMPELAN MGen. Roseller G. Murillo; MGen. Rene Glen O. Paje, J7 AFP; MGen. Fernando T. Trinidad, J7 AFP; PCSupt. Garciano J. Mijares PNP, Chairman of GPH AHJAG, and other Officers and Men of the AFP, and the Philippine National Police (PNP) on October 6, 2018.
The visiting military officers were met by the Sammy Al Mansoor, Chief of Staff of the Moro Islamic Liberation Front (MILF) - Bangsamoro Islamic Armed Forces (BIAF) as they entered the entrance of the MILF Central Committee Plenary Hall, while more than 4,000 MILF combatants formed a foyer or human chain from Quirino Bridge linking Cotabato City and Sultan Kudarat, Maguindanao, a gesture first-ever granted by MILF to any visiting official.
Gen. Galvez and his entourage were received by members of the MILF Central Committee led by Chairman Al Haj Murad Ebrahim who introduced the general as a " Soldier of Peace " considering he once served as Chairman of GPH – AHJAG, and is not new to the GPH - MILF peace process.
Galvez in his message stated that he felt overwhelmed by the hospitality and warmth welcome afforded to them.
"In my whole life as an officer of the AFP, I haven't experience being afforded a longest foyer that comprises maybe about 4,000 or more individuals, and maybe could already be put in the Guiness World Record (he joke), but only here by our friends and partners in peace, the Moro Islamic Liberation Front (MILF)," Galvez added.
" Upon my retirement in December, I will campaign for the Bangsamoro Organic Law (BOL) for its ratification this coming plebiscite on January 21 next year." he added.
Something that caught the attention of other visitors was a note written in the MILF visitors log book by Gen. Galvez bearing his signature that says, " I will work hard and dedicate my life for the Bangsamoro. I love you all. Today is the end of war and now we will begin peace in our land.
Part of the official visit was the exchange of tokens between the MILF and the visiting military officers, and awarding of plaque of recognition by the MILF Chairman Al haj Murad to the AFP Chief of Staff Gen. Galvez as " Peace Warrior ".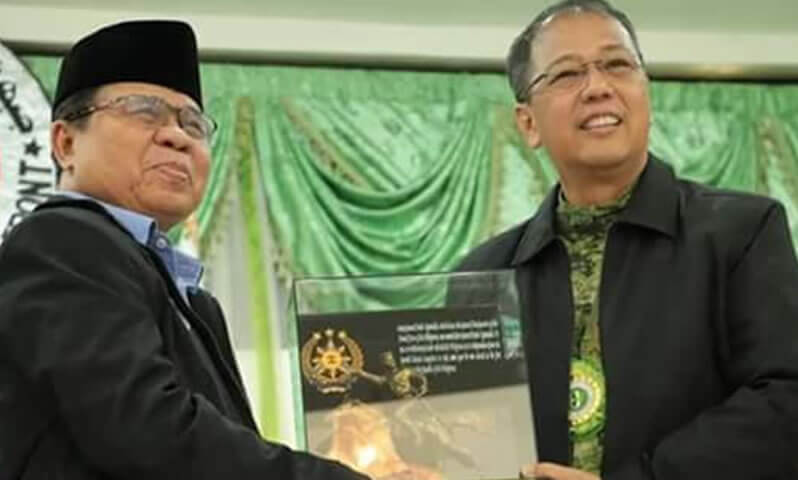 IN PHOTO-MILF Chairman Al haj Murad hands-over a Plaque of Recognition to AFP Chief of Staff Gen. Galvez