Butig town joins Celebration of Global Hand Wash Day
COTABATO CITY – The community of Barangay Sandab, Butig, Lanao del Sur celebrated the Global Hand Washing Day on October 15, 2019 with the theme "Clean Hands for All''. The activity was spearhead by the Barangay Local Government Unit and Rural Health Unit of Butig. The celebration was awareness, campaign and advocacy on the negative effect of polio in the lives of every Filipino.
Handwashing campaign is a program of National Government directed to all Rural Health Units nationwide due to cases of Polio in the country. It said that Twenty years ago the case of polio in the Philippines was declared free. However, in the province of Lanao there are reported polio outbreak in the municipality of Marogong.
Meanwhile, the program started with walk, run, talk and picking up of garbage along the way. There are four schools participated in the activity such as Sandab Elementary School, Dama Elementary School, Sha'arawi Integrated Pilot Madrasah, Mahad Al-Azizaya al- Islamiah and Langco National High School. Followed by the actual hand washing led by the Action Against Hunger (AAH) with the UNYPAD RANAO, a local partner of AHH in the area in collaboration with Municipal Local Government of Butig.
Sandab Barangay Captain Hadji Jabbar G. Diamaoden advised the community to implement the hand washing campaign his barangay so that it could avoided sicknesses.
Dr. Zorah Z. Disomimba, Butig Municipal Health Officer emphasized that the best way to avoid polio is to maintain proper hand washing with soap. "Hand washing is the basic and common term but it is a best behavior to be practiced in our self and our family as well," Disomimba said.
"If we don't participate, we have a chance to transfer this virus to other individuals in the community. Go out to your house and go to the Health Center to have vaccination to prevent any sickness," she said.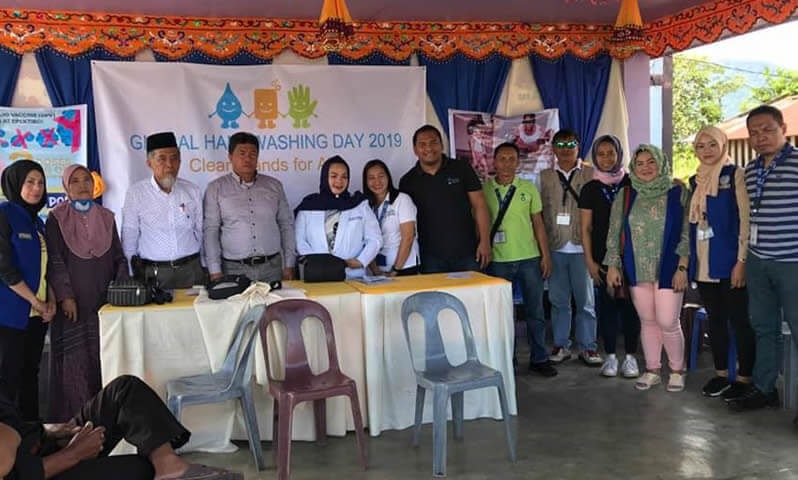 There are 300 participants compose of students and adult who graced the celebration of global hand wash day in Butig.
The Municipality of Butig was one of the municipalities in Lanao del Sur where a fierce fight happened during the all-out war declaration by former President Joseph Estrada in 2000 against Moro Islamic Liberation Front (MILF). The town was also affected by conflict between Maute ISI-inspired group and the Philippine Army in 2016.
The Water Sanitation and Hygiene, Food Security and Livelihood and Psychosocial intervention project implemented by the AAH in partnership with UNYPAD in the Municipality of Butig is a hope for peaceful and developed community. (with report from Abubakar Balabagan)