BIAF-Polcom holds Joint advocacy on Peace Building
Kabacan, North Cotabato- With the theme "Promoting Strong Brotherhood in Islam, Unity and Solidarity among Bangsamoro People", North Cotabato Provincial Committee BIAF-POLCOM organized a joint advocacy on peace building at Barangay Magatos, Kabacan, Cotabato on January 05, 2020.

About 1,062 people from various sectors participated. The event became more informative as one of the known Bangsamoro leaders served as the resource speaker.
Sheik Esmael Dalinan, focal person of the Moro Islamic Liberation Front Central Committee centered his speech on the current issues regarding inclusive peace, and development in the Bangsamoro region.
"Strong Brotherhood, unity and solidarity among Bangsamoro people the most significant weapons that we have towards achieving peace, either through civil and military means", Sheik Dalinan said.
"The creation of Bangsamoro Autonomous Region in Muslim Mindanao (BARMM) serves as a temporary solution to uplift the current status of the Bangsamoro, at the same time to continuously promote and attain just, and lasting peace", he added.
He also pointed out that solving extreme poverty among Bangsamoro people is among the major goals of BARMM, thus strong brotherhood in Islam, unity and solidarity among Bangsamoro is greatly needed to ensure our success.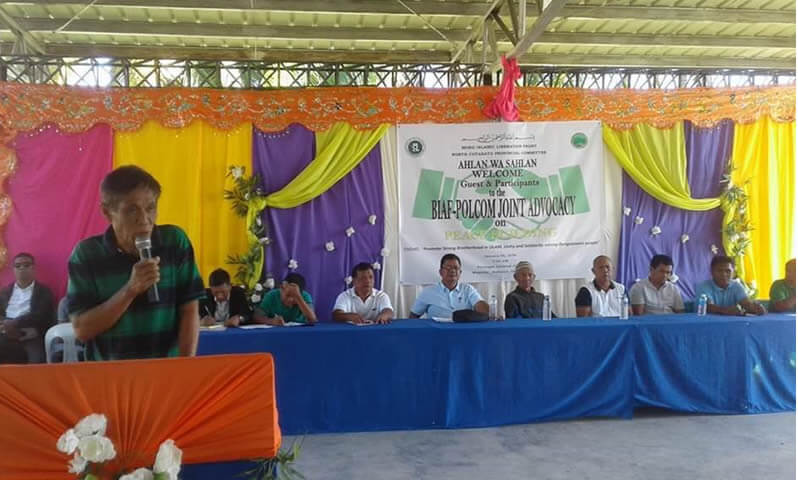 In Photo-North Cotabato Provincial Information Director Mads Timpolok delivering his brief remarks during the joint advocacy in Magatos, Kabacan, North Cotabato
He also elaborated on the role of MILF as a social movement.
"MILF as a social movement will provide services to people living in both inner and outer territory. Furthermore, to fully implement this, our leaders are also seeking for your full support to the United Bangsamoro Justice Party (UBJP), the political party of the MILF.
This party is designed to provide services from the BARMM to the Bangsamoro living outside the core territory", Sheik Dalinan emphasized.
He assured all participants that people from both inside and outside of the core territory have equal opportunities in receiving services from BARMM.
The said event ended with input-sharing, discussed the shared concepts and perceptions of individual participants.