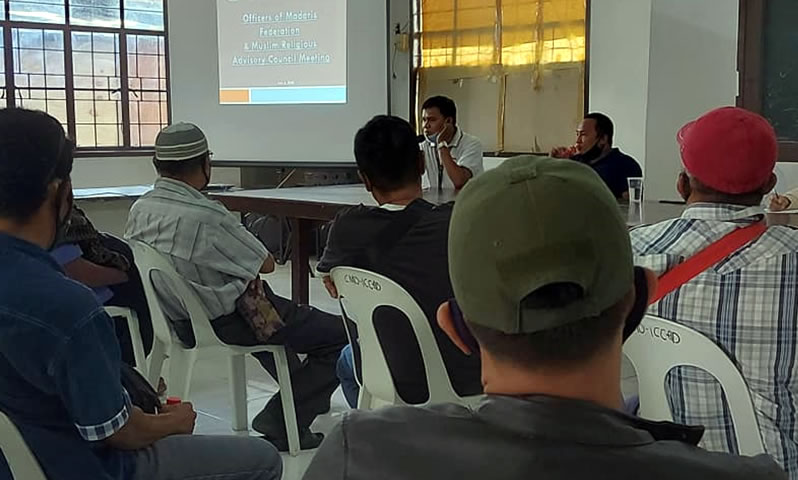 Ulama, Madaris teachers in Gensan plan for alternative learning methods under the 'new normal'
Ulama and Madaris teachers of General Santos (Gensan) City are planning on what alternative learning methodologies shall be adopted in Madaris under the 'new normal' amidst the Corona Virus Disease-2019 (Covid-19) pandemic.
Officers of Gensan Muslim Religious Advisory Council (GSC-MRAC) and Gensan Madaris Asatidz (Teachers) Federation discussed in a meeting last Friday (July 3) how they could modify the learning process where face-to-face teaching is not allowed.


"We initially agreed that Madrasah pupils will be given modules," Jocelyn Lambac-Kanda, Division Head of City Mayor's Office-Indigenous Cultural Communities Affairs Division (CMO-ICCAD), the unit which provides programs for the IPs and Muslims of the city.


Lambac-Kanda said CMO-ICCAD is hosting the series of meeting between the Ulama and Madaris teachers to come up with concrete action plan before the Madaris classes will start by September.
"We will be producing modules for our pupils so they can study the lessons and answer exercises in their homes," she said.
Lambac-Kanda noted the challenges of continuing the Madrasa classes without the learners' and teachers' physical return to the Islamic schools.


"MRAC is willing to help in the development of modules which will be crafted by our selected senior teachers of Madaris," she related.
Under the new normal, Lambac-Kanda said they will consider four basic subjects which are qur'an, hadith, tawheed and fiqh.


The CMO-ICCAD chief said there will be close collaboration among the Ulama and Madaris teachers to fast tract the production of modules this July and August.


Ustadz Moctar Alangan, president of Gensan Madaris Asatidz Federation, said in an interview that their group has also tackled using the online platform such as Facebook Live where Madaris teachers can live stream their lectures.


"Our pupils can still view the on-line lectures even after the live streaming schedules since those videos will automatically be saved and ready to be accessed online," he added.


He said another option they consider is using the two-way radio where a teacher can also broadcast his lecture.


"At present, there are many users of hand-held radios in Muslim communities in our city," Alangan divulged.


He further related that they will consult with the parents of their pupils on what other alternative learning options shall be adopted.
Currently, General Santos City has more than fifty Madaris manned by 154 teachers.


"Each Madrasa teacher receives from the city government of Gensan a monthly honorarium amounting to P4,500 for the ten months duration of Madrasa school year," Lambac-Kanda said.


CMO-ICCAD also facilitates the continuing teaching enhancement trainings of the Madaris teachers.


In school year 2019-2020, more than four thousands Madrasa pupils successfully completed their respective classes.