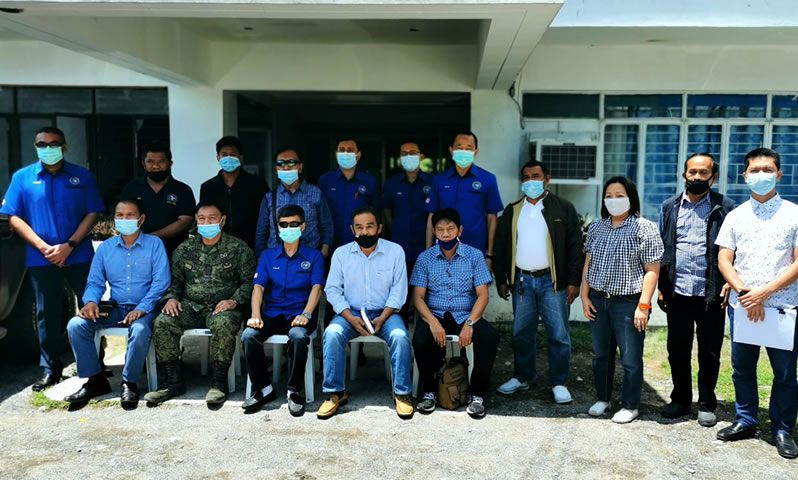 IMT-M15 spearheads first CCCH Joint meeting
Cotabato City (July 08, 2020) - The International Monitoring TEAM (IMT) - M15 spearheaded the 1st Joint Meeting of the Coordinating Committee on the Cessation of Hostilities (JCCCH) Wednesday, July 8, 2020 at DPWH-RES Compound, Tamontaka, Datu Odin Sinsuat, Maguindanao. It was chaired by IMT-M15 Head of Mission Maj Gen Dato' Haji Muhammad Anwar bin Abdullah.
The main objective of the said meeting was to secure the gains of the GPH-MILF peace process through preserving and strengthening the Ceasefire Mechanisms that were tested and proven in addressing the Bangsamoro Cause.


The parties discussed the status of the protests filed by both the government and MILF sides and with a timeline set to resolve the issues raised. Other relevant concerns were also tackled which are vital in strengthening the mechanisms towards sustainable peace and security in the Bangsamoro.


IMT HOM also reiterated about the significance of strong coordination and collaboration between the Ceasefire Mechanisms for the success of the Peace Process in the Bangsamoro.


In attendance, from the MILF side were: Butch Malang, Chairman of MILF-CCCH together with his members Malik Caril who is assigned in ZamBaSulTa; Faisal Pigkaulan who is assigned in North Cotabato; Husain Abdulwahab who is assigned in SocSarGen, Sultan Kudarat Province, and Davao Region; and Ameruding Usman who is assigned in Lanao areas; other MILF-CCCH Staff; as well as Anwar Alamada, Chairman of MILF-AHJAG. From the GPH side were: Col. Joel Mamon, Head of Joint Secretariat, GPH CCCH-AHJAG and staff.


The GPH-MILF CCCHs are mandated to ensure a conducive environment for the implementation of the Peace Process, while the IMT is primarily tasked to monitor the ceasefire agreement between the GPH and MILF, as well as the compliance of both parties to the civilian protection component of the agreement throughout the conflict-affected areas in Mindanao.


Other components of the Ceasefire Mechanisms include the Ad Hoc Joint Action Group (AHJAG), a cooperative mechanism between the government and MILF that responds to criminality and terrorism in MILF controlled, and or recognized areas; and Joint Ceasefire Monitoring Post (JCMP), and Local Monitoring Post (LMT) that closely monitor and respond to ceasefire related concerns between government and MILF ground forces.


Ceasefire Agreement is the mother of all peace agreements. All products of Peace Agreement are largely credited to the implementation of Ceasefire Agreement. It will continue to exist until the exit document is signed between the Government and the MILF as culmination of their efforts in the implementation of the Peace Agreements.


The most significant development that transpired in the Peace and Security of Bangsamoro is the successful ratification of the RA 11054 commonly known as the Bangsamoro Organic Law (BOL) that paved the way for the establishment of Bangsamoro Government widely seen as major solution to Bangsamoro's decades of marginalization and the conflict in Mindanao.