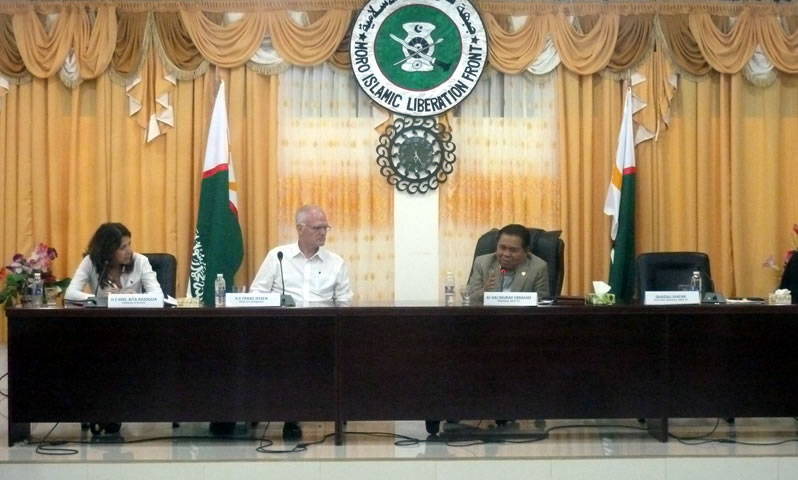 European Union Delegation visits MILF Leadership
European Union Ambassador to the Philippines, Franz Jessen headed a delegation of EU Member States' Ambassadors in their visit to the Moro Islamic Liberation Front Leadership at the Moro Front's Administrative Camp in Darapanan, Sultan Kudarat, Maguindanao on Monday, October 2.

MILF Chair Al Haj Murad Ebrahim and majority of the members of the MILF Central Committee were in attendance who welcomed the diplomat- guests cordially.
MILF Peace Implementing Panel (MILF-PIP) Chairman Mohagher Iqbal delivered the welcome remarks and described the meeting as not just only historic in many senses but it has come at a time when the issue of the Marawi crisis transpired, and the BTC-crafted Bangsamoro Basic Law (BBL) has just been filed and sponsored by many lawmakers in the lower house.
In the course of their discussion, Ambassador Jessen and other EU Member States' Ambassadors have expressed their concerns over the proliferation of ISIS in Mindanao, the Marawi Crisis, the situation on the ground, and BBL passage. They have also reiterated their support to the peace process.
Chairman Ebrahim thanked the EU delegation for responding to the invitation of MILF. He summarized the situation in the ground saying there are relative peace in many areas, while in other areas, there are some hostilities being staged and made by some religious extremists who are seen to be inspired by foreign nationals' ideology.
"Some of those who have joined the said movement were the result of their displeasure. The situation is believed to continue to exist until a political solution will be arrived at", Chairman Ebrahim added.
Ghazali Jaafar, 1st Vice Chairman joined Chairman Ebrahim in the view that with the present rise of radicalism lately, there is a pressing need to take steps to prevent its spread and grievous consequence.
The passage of BBL, the implementation of signed agreements, a strong political structure, are the keys to Right to Self-Determination (RSD), which the Bangsamoro have long clamored for, will pave the way for peace, progress on political, social, cultural and economic developments.
The leadership when asked about the steps being done to counter the problem besetting the area, replied, "there are programs and changes in the approach in ideological and social spheres being carried out.
But the best counter is for the peace process to succeed, finally setting up a political structure that will be acceptable to the people, Chairman Ebrahim stressed.
MILF-PIP Chairman Iqbal explained briefly about the issue on Parliamentary System.
For his part, BIAF-MILF Chief of Staff Sammy Al Mansour updated the guests on the situation on the ground on MILF's campaign against the extremists' elements.
The MILF leadership once again expressed gratitude for the European Union's continued support for the Peace Process. In return, the EU delegation thanked the MILF leadership for the invitation to come. It was an exhaustive meeting bringing hope for a more promising events and developments.