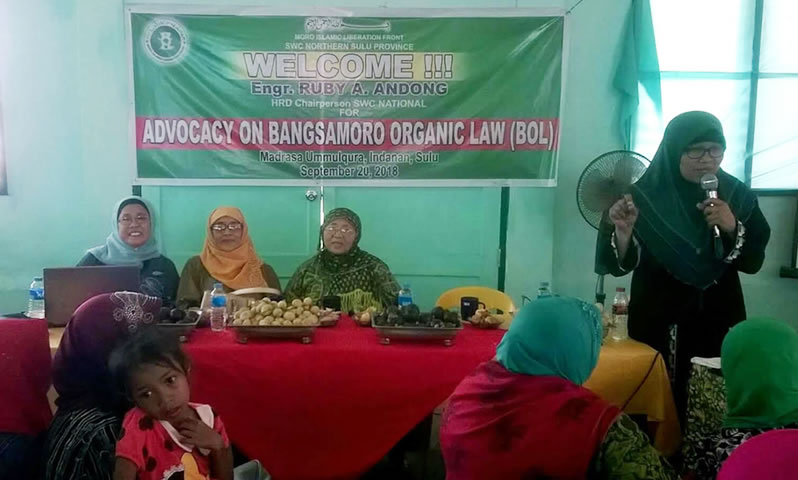 MILF - SWC Northern Sulu conducts advocacy on BANGSAMORO ORGANIC LAW
The Moro Islamic Liberation Front - Social Welfare Committee (MILF - SWC) of Northern Sulu under the leadership of its Provincial Executive Officer Sitti Ruaida I. Ismi conducted an advocacy on Bangsamoro Organic Law (BOL) at Madrasa Ummil Qura , Buansa , Indanan Sulu on September 20, 2018.

The activity was attended by 400 MILF members and Bangsamoro Professionals Sulu Chapter including SWC officials and members of both Provincial and Municipal Committees, and Brgy. Chairmen of Patikul , Luuk , Panamao , Omar , Bilal Tangkian Sulu , Pata and Kalingalan Caluang.
Engr. Ruby A. Andong, HRD Chairperson-SWC National talked about the salient features of BOL and the SWC plans and programs.
Northern Sulu Provincial Committee Chairman Addulmotalib K. Ismi presented an update on Coordination Team for Transition (CT4T), and appealed to Bangsamoro Professionals of Sulu, BIAF 117th Base Command and the Northern Sulu Political Committee to work together towards sustainable peace and development by campaigning for a yes vote this coming plebiscite.
For her part, SWC Provincial Chairperson Ismi reiterated that their group and associates are in full support of the Bangsamoro Jihad Fi Sabilillah (struggle in the way of Allah) and the ratification of BOL.
Judge Muhusar Amil, President of Bangsamoro Professionals Sulu Chapter reminded the participants onthe aims and objectives of their group and pledged to support and advocate the BOL and vowed to campaign for a yes vote on January 21, 2019.