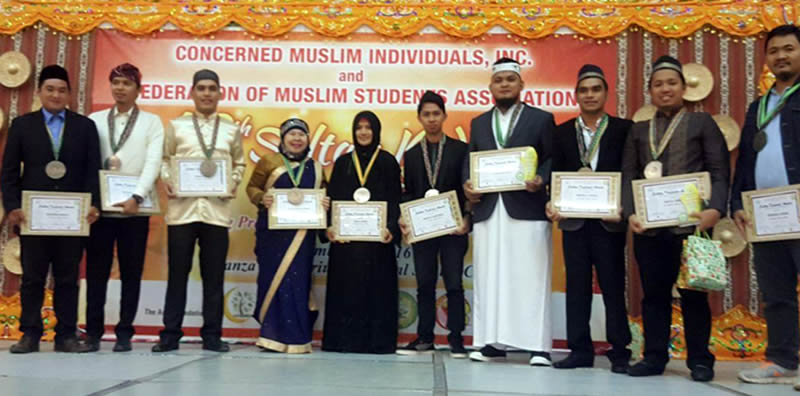 Outstanding Muslim individuals, groups recognized in the 13th Sultan Kudarat Awards
Outstanding Muslim individuals who exceled in their respective fields of endeavours were recently conferred with the 13th Sultan Kudarat (SK) Awards in recognition for their efforts that contributed for peace and development of the Bangsamoro people and communities.
Ting Kusain of the Concerned Muslim Individuals, Inc. which spearheaded the SK Awards said, "SK Awards was designed to recognize Outstanding Muslim Individuals who excel in different fields who contributed in establishing peace in the country."
The 13th Sultan Kudarat Awards recipients were Ashmin Palao and Abdulrashid Batara Sampaco II for Academic Excellence, Datu Pax Ali S. Mangudadatu and Ferdos Mangindala for Student Leadership, Jocelyn Lambac-Kanda and Norehan Nilong Usop for Community Service and Volunteerism, Morsidin Hussein for Community Development and Jovar Pantao for Education; 
Other awardees were Ishmael Pantao for Culture and the Arts; Nasrudin Buisan for Agriculture and Fisheries, Asma Akmad and Salic Sharief, Jr. for Public Service/Government Employee, Fahad Sultan Abdullah for Da'wah and Peace Propagation, Jhukarnen Jamalol for Medical Practitioners, and Gesariel Tabunaway and Gandhi Kinjiyo for Journalism and Mass Media.
Two Maguidanaon traditional leaders namely PSUPT Sultan Salman Sapal (Sultan sa Biwang) and Sultan Tungko Saikol (Sultan Dikaya of Kabuntalan) were cited for Police and Military Service and for Public Service/Government Employee respectively. 
Mohamad Al A. Hassan and Amin Hataman were recipients of Sultan Kudarat Young Achievers Award. Pastil Republic received the SK Award for Entrepreneurship.
The Manila-based Connect Institute was conferred with SK Awards for Outstanding Islamic Center while the Union of Muslim Youth Organization based in Cotabato City received the SK Awards for Advocacy Group.
The award-giving body also recognized Madrasah Ali in in Barangay Calabanit, Glan, Sarangani Province as the Outstanding Madrasah.
The awarding rite was held at Veranza Mall in General Santos City on December 30, 2016. It was the culmination of the five-day Muslim Youth Leaders Congress-Philippines attended by more than a hundred delegates from Mindanao and the island provinces.
Moro Islamic Liberation Front Implementing Panel Chairman Mohagher Iqbal was the keynote speaker of the awarding ceremony. 
He urged the delegates and the awardees to sustain their efforts and initiatives that help the Bangsamoro people.
Iqbal also gave updates on Bangsamoro peace process and the ways forward under the Duterte administration.
The SK Awards was organized by Concerned Muslim Individuals and Federation of Muslim Students Association with the support of The Asia Foundation, AFADMin Inc., Mindanao State University-Gensan, Office of the Bangsamoro Youth Affairs of the ARMM, Governor Steve Chiongbian Solon of Sarangani, Governor Sultan Pax Mangudadatu of Sultan Kudarat, the city government of General Santos and Mayor Bairihan Sakaluran.
Other supporters were the Young Moro Professionals Council, Alkubz Cakes and Pastries, Dulaw Cuisine and RD Foundation.