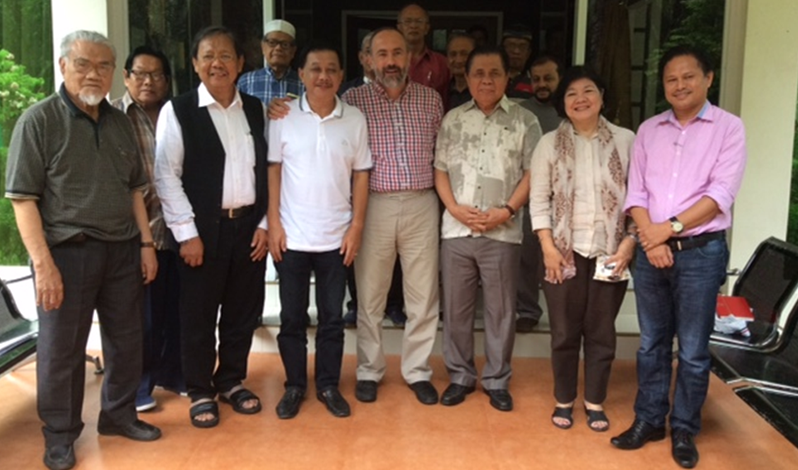 Third Party Monitoring Team visits MILF Leadership
Third Party Monitoring Team (TPMT) members Huseyin Oruc of Turkey-based IHH Humanitarian Foundation, Ms. Karen Tanada of the Gaston Z. Ortigas Peace Institute, Rahib Kudto of the United Youth for Peace and Development and Katrina Auditor, a TPMT staff visited the MILF Leadership at Camp Darapanan, Sultan Kudarat, Maguindanao, Tuesday, July 25, 2017.

They were warmly received by MILF Chairman Al Haj Murad Ebrahim and members of the Central Committee.
As one of the Third Parties in the GPH-MILF Peace Process, the TPMT is tasked to review, assess, evaluate and monitor the implementation of the Framework Agreement on the Bangsamoro (FAB) and its Annexes, and the Comprehensive Agreement on the Bangsamoro (CAB).
The team purposely came for some updates or situational analysis. Chairman Ebrahim gladly shared with the TPMT delegation what the MILF Leadership sees and had observed in the most recent development in the GPH-MILF peace process.
In the course of conversation, both the MILF Leadership and the visiting TPMT members had seen and felt optimism in the way the peace process is being dealt with by the Administration. President Duterte's impressive and strong influence may bring about support for his program on peace, Chairman Ebrahim said.
The meeting was extensive, other topics includes the reorganization of TPMT, some contents of the BBL, the Marawi siege and Federalism to name a few.
Chairman Ebrahim and the visiting TPMT member also agreed that the necessity for strengthening coordination by the security sector with the AHJAG and CCCH mechanisms, vise versa, are too important to avoid incidents like the Mamasapano tragedy.
Updates on the Program for Normalization were also jointly given by Architect Edward Guerra and Mohammad Salih.