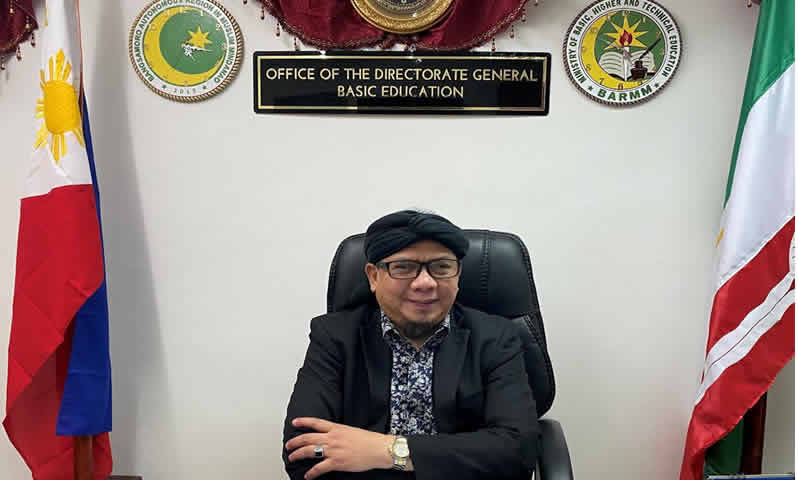 Basic education will shape its direction' - MBHTE Director General Salik, Jr.
COTABATO CITY - Mga Panduwan nu MBHTE once again marched on the second episode of the teleradyo program of the Ministry of Basic, Higher, and Technical Education (MBHTE) and was personally attended by Abdullah "Junn" P. Salik, Jr., Director General, Directorate-General for Basic Education, MBHTE where it outlined the main mandate and functions of basic education, program scope, structure and plans with the Education Specialist of Basic Education-MBHTE Abdul Basit "Abe" L. Talicop, MAELT who discussed the Adaptive Learning Materials (ALM) held at the Bangsamoro Multimedia Network (BMN) Studio, Jamiat Cotabato, Cotabato City on Monday, May 30, 2022.
Salik, Jr., said that the main mandate of Basic Education (BE) is to prepare Bangsamoro learners for what is called Quality Education and also for learners to prepare for their journey in education, "basic education will shape its direction on what they want to achieve in their studies."
Of the four MBHTE sub-sectors, Basic Education (BE) is the largest subsector of the ministry as it covers Elementary, Junior, and Senior High schools.
On challenges faced by MBHTE BE, Salik, Jr. said that this is the non-participation and allocation of funds by the Department of Budget and Management (DBM) in the nationally funded Basic Education programs in the Bangsamoro region which has affected the regular program funded by the National Government.
He pointed out that one reason why this is happening is because of the block grant given by the National Government to BARMM, the DBM assumes that MBHTE is capable of funding all the educational projects of the Bangsamoro government but the funds allocated for the MBHTE of the Bangsamoro government a large pie portion of the budget goes to wages and salaries.
Also, among the challenges is support for Private Schools, due to the pandemic, according to Salik, Jr. private schools have struggled with their operation.
During the program attended in Manila by the BE Director General were given the opportunity to discuss these challenges.
The biggest issue that has been resolved according to DG Salik, Jr. is the ESC.
"Ang pinaka malaking isyu na naresolve ay iyong ESC… yung mga Senior High na ina-accommodate ng mga Private School, na magkakaroon ng kanilang pondo o subsidy na medyo umabot ng ilang buwan, medyo nahihirapan ang Private School kung paano sila maka cope-up, kasi malaki din ang gastusin nila," said Salik, Jr.
He said this issue was also discussed at the Inter-Governmental Relations Body (IGRB), which was defended by Minister Mohagher Iqbal; and Salik, Jr. said, what is stated in the law must be implemented by the Government. "Whatever nationally funded program shall be continued by the national government," said Salik, Jr.
In terms of development in Basic Education subsector, many have also obtained learning materials, Bangsamoro Computerization Program for Senior High School and a tablet that can be used even without WIFI, including the provision of funds by Minister Iqbal's office for printing equipment in different schools highlighted in the accomplishment of BE.
The Director General of Basic Education also called Schools Divisions that have not yet submitted their liquidation documents because MBHTE Minister Iqbal said Salik, Jr. has a policy that if there is no liquidation of the funds used by schools there will be no releasing of new Maintenance and Other Operating Expenses or MOOE.
"To all our teachers and school heads in all divisions in the Bangsamoro to liquidate their MOOE because we know that this time, we have 1 Billion unliquidated MOOE, because the Minister's policy is no liquidation, no MOOE," according to Salik, Jr.