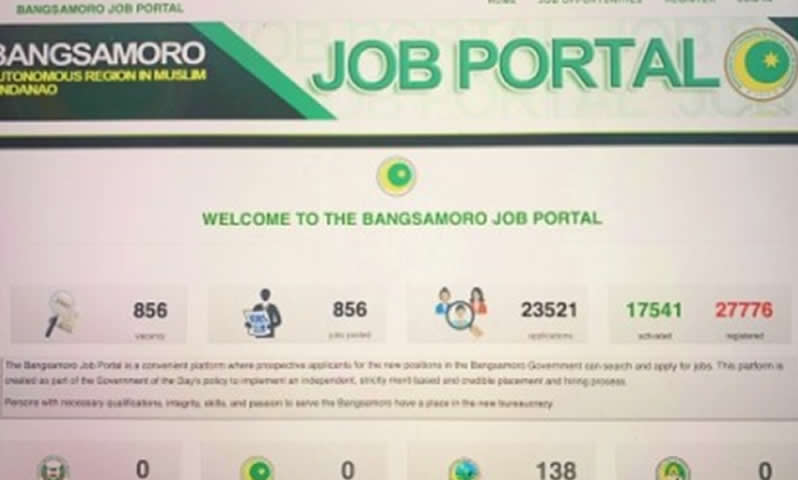 Defunct ARMM employees can re-apply to BARMM, officials say
COTABATO CITY -- Public servants in the defunct Autonomous Region in Muslim Mindanao (ARMM) affected by the "phase out" provisions of the Bangsamoro Organic Law (BOL) can still re-apply for any positions they think they are qualified in the Bangsamoro Autonomous Region in Muslim Mindanao (BARMM).

"Employees of (the) previous ARMM can still re-apply," member of Parliament Zia Alonto Adiong of the Bangsamoro Transition Authority (BTA) said as he posted on his social media page the December 23 launch of the Bangsamoro Job Portal project.
The job portal was launched online to cater and screen aspiring applicants, based on merit and credibility. It was created by the Bangsamoro government as part of its call for moral governance.
The portal will also give the applicants less-hassle transactions in submitting their resumes and scouting job vacancies in the different ministries of BARMM.
Lawyer Naguib Sinarimbo, minister of the Ministry of the Interior and Local Government (MILG-BARRM), said the regional government has created a job portal where applicants from other parts of the region can submit their applications, including those affected by the "phase-out" program of BARMM.
"This job portal will level the playing field among BARMM aspirant-servants, including those affected by the phase-out program," Sinarimbo, also BARMM spokesperson, told the Philippine News Agency (PNA) when asked whether "separated workers" can still re-apply and have equal opportunity with new applicants.
Employees affected by the phase-out program have raised their issues with provincial governors of Basilan, Sulu, and Tawi-Tawi, urging BARMM Chief Minister Murad Ebrahim to put a stop to massive displacement of workers.
Sinarimbo said these employees were properly and legally compensated.
As of December 26, the job portal, with guidance from the Civil Service Commission, has posted vacant positions and the needed qualifications of applicants.
The portal also features the registration process and provide answers to Frequently Asked Questions (FAQs).
It can be viewed at https://jobs.bangsamoro.gov.ph. (PNA)