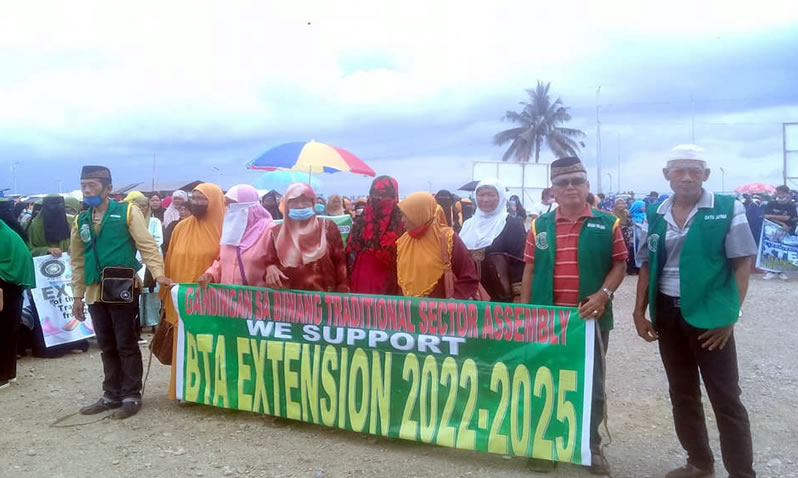 Biwang Province peace advocates hold Peace Caravan for BTA extension
PALIMBANG, Sultan Kudarat (April 1, 2021) --Almost two thousand peace advocates and supporters of the Bangsamoro government held a peace caravan on March 27 in this town to pitch their call to the Philippine government to allow extension of the Bangsamoro Transition Authority (BTA).
The participants came were comprised of various sectors of the municipalities of Maasim, Kiamba and Maitum in Sarangani Province, Lake Sebu in South Cotabato and various barangays of Palimbang.
In one voice, they urged the members of the House of Representatives and Senate, to pass a law that will extend the transition period for the BTA until 2025.
During the peace rally at the plaza following the caravan, Palimbang Councilor Mark Siokon, representing Mayor Joenime Kapina, said they would pass a resolution calling the national government to pass law that will allow period for BTA.
He noted that three years for the BTA stint is not enough to deliver all its mandates as stipulated in the BOL.
Kingboy Bayang, Provincial Governor for Biwang Province under the Political Committee, underscored the need to support the Bangsamoro Government.
"It (Bangsamoro government) brings peace not only in the core territory of BARMM but also to the other communities like Palimbang of which majority of its people are Moro," he said.
Various leaders who spoke during the activity expressed their support for the Bangsamoro transition term extension.
Among the caravan participants identified as Gandingan sa Biwang compose of Datus and Bais of Royal House of Biwang, Bangsamoro Communications Network (BCN) Biwang, Kiamba, and Maitum chapters, Bangsamoro Radio Network (BRN), Biwang-Palimbang Riding Team (BPRT), Bangsamoro Islamic Youth Association (BIYA) and the United Youth for Peace and Development (UNYPAD) Kraan Chapter.
They were joined by BCN Biwang Chapter of Palimbang, Palimbang Radio Communications Network (PRCN), Da'watul Annisa'iyah Committee (DAC)—Jam'iyyatul Inma Litabsirah (JIL) of Palimbang, and UNYPAD Palimbang and Maganao Chapter and the Palimbang Youth Parliament (PYP) and other organizations.
Established in February 2, 2019, the BTA is the interim government of the Bangsamoro Autonomous Region in Muslim Mindanao (BARMM) with both legislative and executive powers.
The BOL mandates the BTA to enact priority legislations namely the Bangsamoro Administrative Code, Bangsamoro Revenue Code, Bangsamoro Electoral Code, Bangsamoro Local Government Code, and Bangsamoro Education Code during the transition period. (With report from UNYPAD-Palimbang)